What you are missing not watching Kris Evans and Torsten Ullman full-length video.
Kris is a popular Bel Ami muscled porn star with m big cock and low hanging balls. And Torsten (stage name he invented himself) is a young newcomer with well-build body and pretty face.
In a preview video (3 mins) we are introduced only with a glimpse of what hot scenes are in full-length version which consists of 2 parts, about 18 minutes long each. (36 mins the whole vid).
The scene starts when two guys being only in briefs are kissing and petting each other. Torsten stat to suck Kris' nipple and they kiss again and again. After it they start to massage their bulges.
Torsten lows down Kris' briefs from behind showing us his hairy muscle butt, grasps Kris' cock and starts massaging it while guys kiss each other once again.
Briefs are pulled down from Kris and you are shown his big meat rubbed by Torsten. You get a sweet sense of almost smelling this big cock and feeling it in your hands and you want desperately to taste it with your lips and tongue.
And now a real action begins – Torsten starts sucking Kris' dick, licking it with his tong and then sucking again. And you enjoy the view imagining that you suck a big cock and also being sucked by young beautiful guy at the same time.
Kris pubes are shortly trimmed and his big balls hang low, Kris moans sweetly while he gets sucked, you observe everything on close-ups and at an instance a camera show Torsten from behind and you see his man hole – it is where a cock he is sucking soon will enter and it will be bareback.
The guys change and Kris, sitting and jerking off his big meat, starts sucking Torsten's dick, and this guy has more fur on his pubes.
Suddenly Kris licks his partners' balls, the thing that he had not received from Torstein, but you feel a nice sensation at your balls too as Kris does it so vigorously and sexy!
After 5 minutes of sucking my favourite part comes – ass licking. Torsten bents and closes the eyes anticipating the pleasure.
And Kris starts liking his partners' man hole, while masturbating Torsten's cock. Almost for 3 minutes you enjoy close ups of Kris playing with his partner's hole, getting it ready to receive his big meat.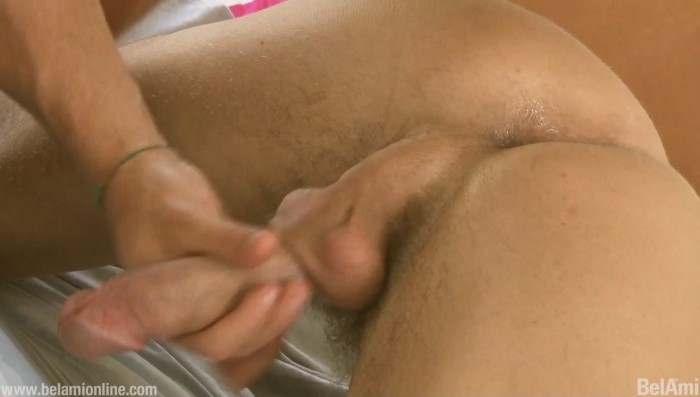 Torsten becomes so relaxed of such a pleasure, his face looks happy and content as he spreads his butt with two arms and opens his sweet man hole before muscled hunk to receive more pleasant, soft and wet sensations in his anus.
Now is the time to penetrate that wet ass of young stud, who becomes totally relaxed and ready to receive a big load of muscle meat.
But before that in close up we see how Kris playing with Torsten's wet asshole – sliding his dick just over it and then he aims his cock right inside young stud and pulls it slowly in.
As he gets deeper and deeper in his yet tight ass a pleasant sensation creeps over both guys – and they moan loudly together. Kris is delighted of the first moments of being inside tight ass just before the fuck begins and Torsten goes crazy of being pierced with such a big dick.
Now Kris begin to move rhythmically and we enjoy in close up Kris' big meat in action – in and out, in and out as his low-hanging balls slap Torsten in perineum.
At one moment Kris takes his meat out of young stud butt and masturbates a little and pulls it back to continue his moves.
After a while they change position and now Torsten sits on Kris, masturbating while Kris continues to fuck him hard shaking his big balls every time he makes an intense move and making Torstein moan intensively.
At the end Torsten cums groaning on his stomach bringing Kris more pleasant sensation as he involuntary squeezes his anus. And still Kris continues to fuck Torsten with fast short movements even when the guy has cummed, making himself ready to shoot a load.
Now Kris pulls his cock out of young stud's ass, masturbates and cums with a big load of sperm right inside the ass hole! After it he pulls his still erected cock inside that hole full of sperm and makes some fuck moves!
That hardcore part is about 9 minutes long . The whole full-length movie is 36 minutes. Fantastic scene!
And this is just one part of one of the 2,349 HD videos on Bel Ami Online.
Here is a preview vid, just see how much you missed in this 3 minutes video:
So there is much more then short video previews all over gay tube site! Sign up to Bel Ami Online to get to the next level of pleasure – full-length HD gay sex videos.