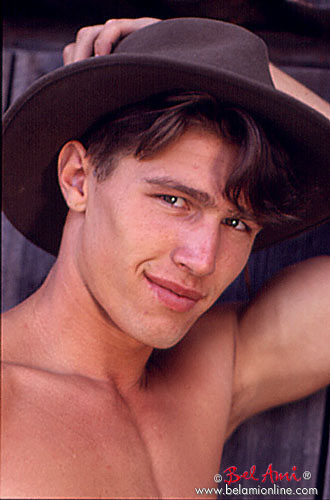 aka's: Pieter Gierek, Ion
Birthplace:  Bucharest, Romania
Birthdate: 15 December 1974
Height: 182
Weight: 75
Eyes: Hazel
Hair: Brown
Zodiac: Sagittarius
Preference: Versatile
Dick size: 18
In the beginning,  Ion was a first-class rollerblader. In his first scenes for Bel Ami he wore his hair long, in a ponytail, but he cut his hair short for the remake of the roller-blading scene in "Frisky Summer".
He got a tattoo on his right shoulder and a scorpion on his pubic area in the Spring of 1995. By the Summer of 1997 his tattooed spider web grew another outer ring.
He has appeared in several non-Bel Ami hardcore movies: "The Vampire Of Budapest" (Kristen Bjorn, July 1995) in which he had a small part in the orgy, set in the big baths palace on Saint-Marguerite Island in Budapest. In this scene he is sucked by Stefan Stano ("Reszö Farkas" ).
In "Zoltan & Les Minets de L'Est" (a/k/a "Soldaten" ) (Clair Productions), a French-produced movie set in Budapest. In this video he tops Adam Jannin (Istvàn) and both models also take turns fucking a third guy in a 3-way scene. And as Ion in "Atilla the Hun" (2001, Cadro films)
Ion native language is Romanian and he speaks also English and Spanish, and can understand and communicate in Czech and Slovak as well as a little Italian.
He was always fascinated by tattoos and is now an owner of a tattoo shop in Western Europe.