Kris Evans and Torsten Ullman full-length paid video description.
Part 2. Read what is inside part 1 here.
Now it is time for Kris to receive pleasure of getting a cock moving in the ass.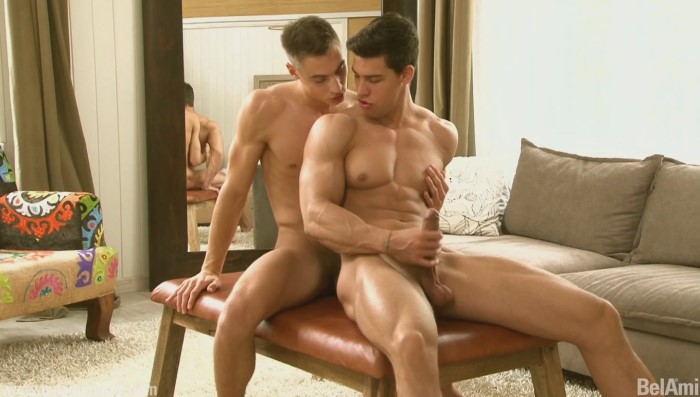 Torsten embraces muscle hunk and starts to jerk off his erected big cock. Kris lies down while young stud kisses his muscled body starting from lips, neck, nipples and reaching his big cock and begins to lick it like an ice-cream. Young guy sucks the cock and then gives Kris to try how the cock tests by kissing him. Guys exchanges a bitter taste of male meat and its tempting smell.
Then guys assume 69 position and began working on each other. Long, low sucking and moaning sounds floated out as they plied their tongues to each other's cocks. Their passions rose in intensity as each competed with the other in trying to excite his partner to higher and higher peaks of passion.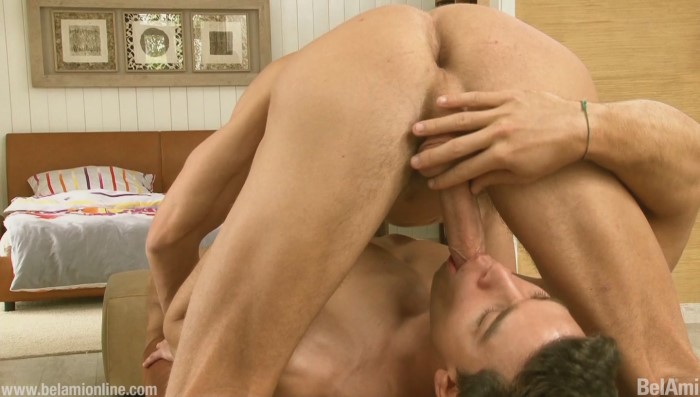 When camera shows how Kris sucks his partners dick you notice how Torsten's man hole became bigger and deeper after being penetrated by big meat of Kris.
Torsten moves up his leg to show how Kris sucks his cock that is bend back – the view of both guys testing each others meat becomes very hot.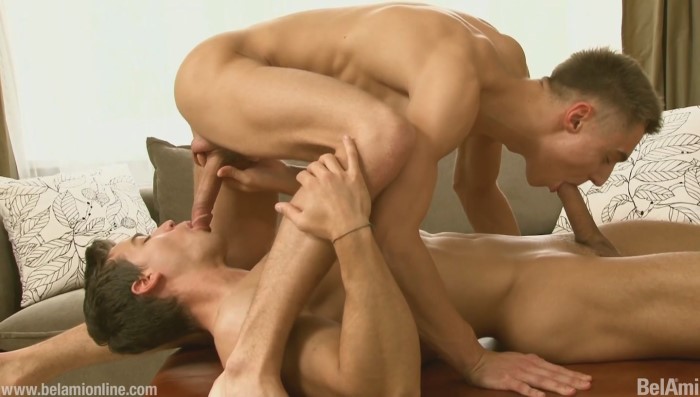 During that time a close up of Torsten's man hole is shown. Kris spreads the butt of this young guy to show how the hole looks like after being fucked with his huge cock. The stud's hole became wider and looks tempting as if thirsting for more cock to penetrate it.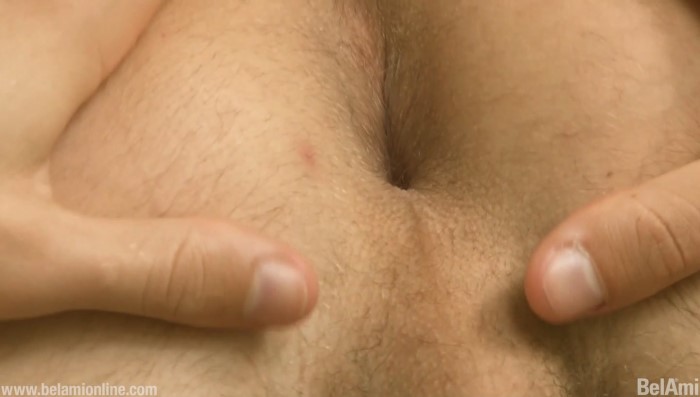 Torsten shrinks the hole as if being shy and Kris continues to spread it again and again as you enjoy the view of clean just being fucked man hole and dream to join in and start licking it!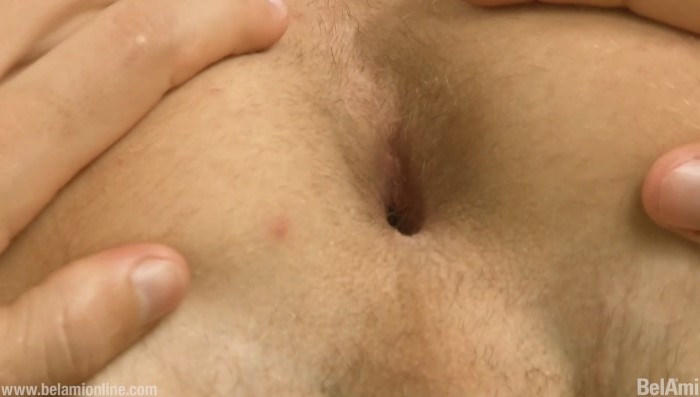 Then Torsten comes before Kris and give him more oral pleasure being on the knees. Now Torsten drugs Kriss muscle legs up high to reach the perineum and ass hole. The young stud starts to lck just below big balls of Kris and tastes the man hole.
He continues to wet the sides of the hole with his tongue and massages it with fingers giving moaning and masturbating Kris much pleasure. Finally he spreads the hole again and again with his arms trying to go deeper and deeper with his tongue.
After that we see Torsten penetrating Kris who stands bending. The young stud moves his cock inside the hole of muscle hunk rhythmically touching the butt with his the hairy pubis.
Kris masturbates from time to time, and when he jerks out Torsten feels more pressure inside his hunk partner and begins to fuck him more and more intense,
Kris moans as he feels the young stud moves more energetic so he even touches Torsten's leg to make him be more gentle.
Guys change their position, now they are on their sides, Kris pulls one leg up and his balls hang down on his thigh showing his perineum and how Torsten fucks his tight ass. Kris ass is really quite tight as he do not let Torsten go deeper, and also he do not want to cum before time as he jerks of his erected cock.
Guys kiss each other for a moment and we see delightful face of Torsten who gets much enjoyment from sliding bareback inside muscle hunk hole with his cock.
And then Torsten prepares himself for to cum as he quickens his moves, looking down at his cock moving inside hunk's hole .
Torsten takes out his cock and cums masturbating all over Kris butt and perineum.
Kris in his turn starts to jerk off intensively as Torsten put his mouth before hunk's cock to receive his load.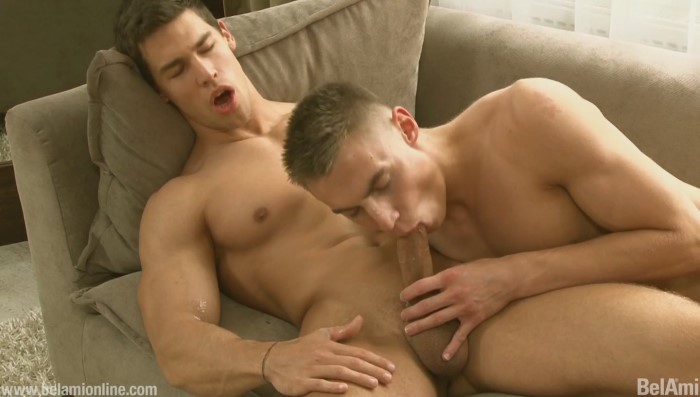 So Kris shoots his load on stud's face and lips, Torsten catches some of sperm on his Tongue and then licks some of cum from the cock head and sucks the prong. At the end guys kiss again and now Kris gets a taste of his sperm on Torsten's lips.
So we got 5 minutes of oral scene, 2 minutes of Kris hole rimming, and 11 minutes of anal sex and final cum with kisses.
Now compare it with the short preview of both two parts of the full movie:
And this is just one one of the thousands HD videos on Bel Ami Online.You get much more then short video previews at gay tube sites!