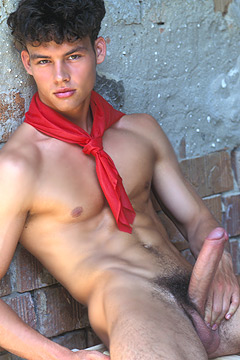 Birthplace: Slovakia
Birthdate: 10 April 1977
Height: 181
Weight: 72
Eyes: Brown
Hair: Brown
Zodiac: Aries
Dick size: 19
Next big star of Bel Ami Julian Armanis first appeared in Frisky Summer 2. He is one of those guys whot makes you admire his splendid figure. He possesses star model look, a defined and cut body that suits to the Bel Ami trademark. And what most of all he has a HUGE cock! So that is why Julian quickly became another popular model and Bel Ami produced a separate full length film dedicated merely to him named "Julian".
Being originally a pastry chef he got across with Bel Ami when working as a fashion-model. His hobbies are swimming and mountain-hiking. He finished his actor job with Bel Ami in 2002, moved to Prague and works there as the  accountant and manager at the Bel Ami's Prague office.
In 2003 he was nominated Grabby Award for Best Group Sex Scene in Frisky Summer 4, together with Roberto Giorgio, Patrik Zsolt, Adam Cartier, Chris Cameron, Dano Sulik, Nikolas Kiss. You can find many videos with him at www.BelAmiOnline.com