Seriously Sexy at Bel Ami
The miniseries "Seriously Sexy" that will run on BelAmiOnline for 10 months. This is special Internet edition that will have double length of DVD that is 8 hours.
It is exclusively for BelAmiOnline members.
"Seriously Sexy Party" is the continuation of Seriously Sexy miniseries. It will consist of three parts including total of 14 scenes. The video is to be ready in a few weeks.
Part 1
Seriously Sexy – scene 2 "Brandon's piano lesson" This scene is the second episode of the upcoming GDuroy release 'Seriously Sexy' Seriously Sexy is the largest project undertaken by BelAmi since 'Lukas in Love'.
Part 2
This is one hell of a scene, so we have broken it up into 3 parts to show on the internet. This is part 2. For those of you who long to see more of the stars of a few years ago, this is a special treat, with Josh, Jeff and others all making scorching appearances.
Troel and Joel D'Amici
Josh and Sasha
So it seems that Josh and Brandon's relationship is falling apart as Josh hooks up with Sascha. After a hard session of sucking and fucking Josh heads off to the shower leaving Sascha to break the news to poor poor Brandon that his relationship with Josh has just come to an end.
There is something special is happening in this part and is also included is the trailer – Geff Daniels gets access to the Brandon's rosebud to play with and it is surely not something that happens all the time!
Other episodes include Davy Paxton sucking huge cock of Paul Valery, oral action between Alex Orioli and Manuel Rios and hardcore scene with Kurt Deisel and Brian Bennet.
Seriously Sexy previously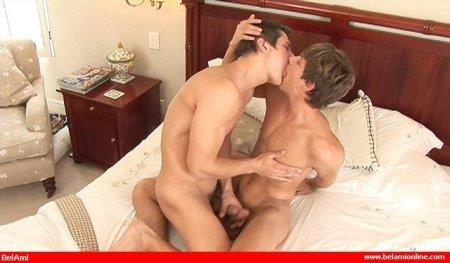 In the first scenes of the Seriously Sexy we saw a porn drama between lovers Brandon Manilow and Josh Elliot. After a sex scene between them in the first episode a drama comes: Brandon takes home Brian Bennet and to gives  him a "piano lesson" while Josh is upstairs in the bed.
Josh catches them and they argue. But Brandon apologizes and presents Josh a rose and he puts it in a vase which is already full of roses, meaning that  it was not a first time..
In the third scene Josh is going to revenge Brandon! So he meets with Paul who was selling swimwear at the shop. In this clip Paul Valery bottoms for the first time and what is more George also managed to persuade Josh Elliot to bottom also!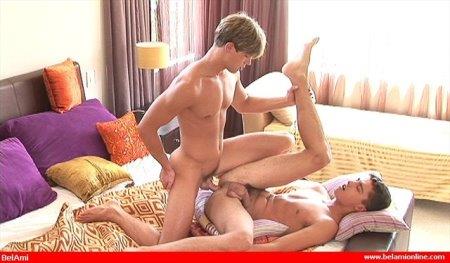 Now we have continuation of the series. Click on the next pic to watch a trailer with Joel D'amici and Troy Allen together for from part 2 or Seriously Sexy.
Joel is always cute, smart, tall sexy and with a perfect cock.  Watch him ram it into the voracious hole of Troy makes it even better.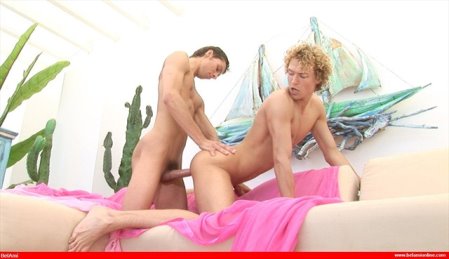 Final orgy
Part 1
Part 2